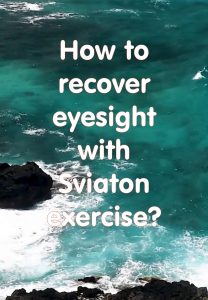 How to Restore Eye Health with Sviaton Eye Exercise. The first step is to draw a circle at least 1 meter in diameter on the wall (better 2 meters or around 4-8 feet), and smoothly move your eyes along its contour with your eyes. Circle exercise will help you to warm up your eye muscles.
How to Perform Sviaton Eye Exercise to Heal Spasmodic Eye Muscles
Relax your facial muscles, and eyelids, and blink a few times or close your eyes for a few seconds to relieve eye strain.
1 look to the right and turn your head smoothly and slowly to the left
2 look to the left and turn your head to the right
3 lookup and lower your head down
4 look down and gently lift your head up
5 look into the upper right corner and turn your head to the lower left
6 look in the lower-left corner and turn your head to the upper-right corner
7 look in the upper left corner and turn your head to the lower right corner
8 look in the lower right corner and turn your head to the upper left corner
9 nice and easy rotate your eyes along the contour of the circle
and feel how the eye muscles stop squeezing and pressing on the eyeball. It`s a very pleasant feeling.
10 Close your eyes and relax them after powerful stretching eyes are tired and need rest.
11 Do circular rotations to stabilize the work of all eye muscles. To improve eye focus.
Eyesight Academy Course to Recover Your Eye Health
If you are tired from low vision and want to Restore your Eye Health and get better vision. Do not miss the opportunity to
Enroll In Eyesight Academy Course and recover your eye muscles naturally to see more clearly. Limited time offer to get a good price.
Sviaton exercises helped me to improve my eyesight naturally.