About Eye Training Course Eyesight Academy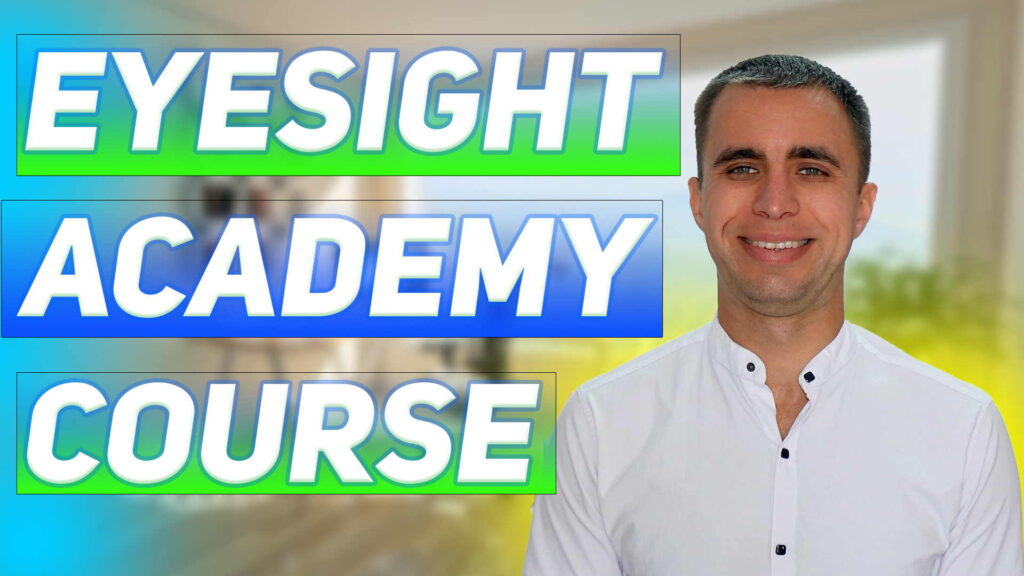 Eye Training Course Eyesight Academy
Welcome to Eye Training Course Eyesight Academy, the online Program that teaches you how to improve your eye health naturally and get better eyesight with eye exercises and relaxation methods. My name is Sviatoslav and I am the founder and instructor of the Eyesight Academy course.
I used to have poor eyesight for many years (More than 20 years). And never wear spectacles and my vision was 40% which is 20/40.  Eyesight did not deteriorate. So do not listen if someone saying: "You need to wear glasses". In eye glasses vision will decrease every year. They just want to sell you specs, or don`t know what are they talking about.
Natural Vision Improvement without invasive surgery
I always wanted to improve vision naturally, without invasive surgery. Because eyes is very sensitive and given only once to us. And saw so many side effect people get after eye surgeries, like red eyes. Surgery does not solve the main cause of low vision Accommodative spasm and eye even after surgery and pressure. I simply do not want to cut eyes,and it is does not matter if it`s fancy laser or whatever.
I was looking for the right eye exercises for a long time and passed 4 eyesight improvement courses in different languages. And finally got experience in eye exercises and found eye exercises that is really works, after practicing hundreds of them. Huge path of trials and errors was done for many years of attempts.
With the combination of relaxation techniques, correct blinking, and stretching eye exercises i got rid of the accommodative spasm which was the main cause of Myopia.
Stretching Eye Exercises to Eliminate Accommodative Spasms
Stretching Eye exercises are effective way that can help you stretch ingrown micro-tissues of eye muscles and renew them by training your eyes, reduce eye strain, relieve pressure from your eyeballs and improve your vision. Its like to release a tight belt from the eyeballs to eliminate accommodative spasm. Eyeballs feels freedom and much better! It will be much easier and lighter to move your eyes. Its like eyeballs sliding a water surface.
I eliminated my accommodative spasm, which is a common cause of myopic blurry vision  at far distance. And also improved my eye health and reduced the risk of retinal detachment.
I was so happy by the benefits of eye exercises that helped me to eliminate eye muscles spasms, that I wanted to share them with others. Before creating Eyesight Academy I enrolled in four different eyesight improvement courses. And learned from the best experts in the Natural vision improvement field. And also did extensive research and studied the best practices on vision improvement.
Eye Training Course Eyesight Academy
I combined all my knowledge and experience into creating my own Eyesight Improvement Program Eyesight Academy. This course is designed to help you achieve your vision goals in a safe, effective, and enjoyable way. You will learn how to perform eye exercises correctly, how to notice vision improvements, how to overcome low vision, and how to maintain your eye health.
Eyesight Academy is more than just eye training course course. You will have access to me and other students through Thinkific online platform, where you can ask questions, share tips, and celebrate your achievements. If you are ready to improve your eyesight naturally with eye exercises.
Join Eyesight Academy today and start seeing the world more clearly!
You Can Try FREE Mini Course for Natural Vision Training to start learning vision improvement skills and see better.
On the Shop Page you can find unique designed T-shirts, Hoodies, Jackets, Accessories Designed by Sviaton.
Main warehouse located in USA an in Europian Union. 
If you have any questions please contact us via form below.