I want to share with you the Oculomotor eye exercise tips, necessary rules, and principles of performing oculomotor exercises and how they should benefit you.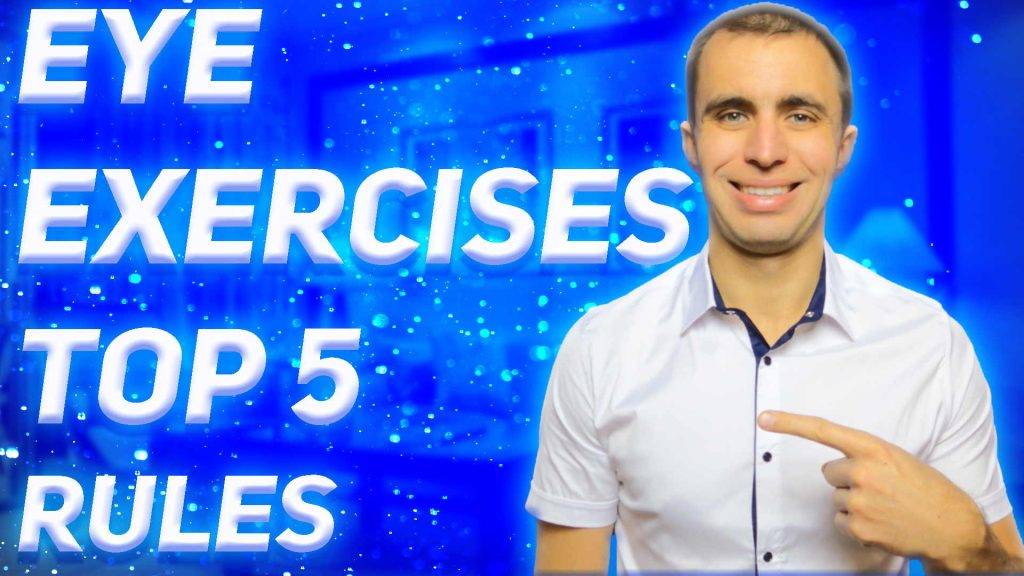 A lot of people do not even know how to do eye exercises. They looked on the Internet at the movement of the eyes from right to left, in a square, and so on. Having done a month did not get a result and stopped doing any exercises for the eyes.
1 Oculomotor eye exercises tip. Do not make eye muscles tired
For any oculomotor eye exercises, for example, you just started doing the exercises, and as soon as any symptom of eye fatigue, you stop doing these exercises immediately.
If you have any feeling of tension or fatigue, you stop and relax your eyes. For example, you moved your eyes to the right and left three times, and you already feel some kind of fatigue. You completed this exercise.
Why is it urgent to stop?
Because it means some muscles when performing these particular movements, are still not ready enough to be involved in the work in one way or another.
Not ready enough if you do it with force, they will get tired, and you will have a psychological rejection of these exercises, and the next time you will not want to do the exercises. Will find some reason why you can not do it.
Secondly, the cause of visual impairment in humans is overstraining and spasms of the oculomotor muscles. We need to get rid of the spasm, and not vice versa, so don`t overstrain the eyes even more.
Vision Wellness Simplified: Eyesight Academy's Approach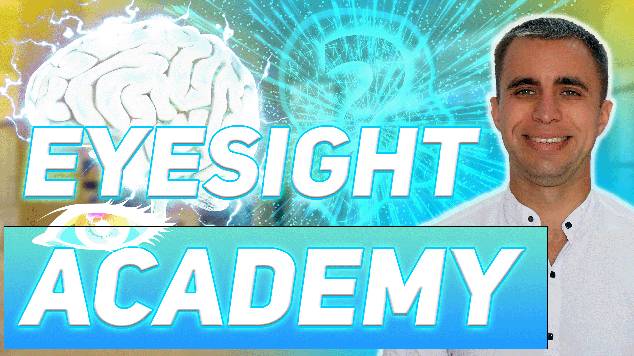 Discover Clarity and Brilliance with "Vision Wellness Simplified" Are you tired of squinting, straining, or relying on glasses? Welcome to "Vision Wellness Simplified" – the revolutionary course by Eyesight Academy that transforms your vision and elevates your well-being.
Your Eyes, Your Wellness: Eyesight Academy's Commitment
Master Your Eyes: Gain practical insights to unlock the full potential of your eyes, leading to sharper vision and healthier eyes.
Digital Eye Care: Navigate the digital age with ease, learning strategies to protect your vision from screen-related strain.
Lifestyle Habits: Discover simple, actionable habits that promote eye health, enhancing your daily life.
Simplified Learning: We break down complex concepts into straightforward, actionable steps.
Practical Application: Apply what you learn immediately for noticeable improvements in your eye health.
💥 Your vision deserves the best. Invest in "Vision Wellness Simplified" today and rediscover a world of clarity and brilliance! Enroll now and experience a life with eyesight that's second to none.
👓 Limited Time Offer: Enroll now to enjoy exclusive bonuses worth $397!
🔥 Don't miss out on this incredible opportunity! Click the link below to enroll and embark on your journey to better eye health and brighter vision. 👇
2 tip. Enjoy the process of doing oculomotor eye exercises
Try to enjoy the exercise and relaxation when doing oculomotor eye exercises. It is necessary to learn to feel every sensation that our eyes give us. For example, if the muscles are tense, you need to feel how we relax them and give them rest. Then, for example, we do a slight stretch, and all these micro-clamps are unclenched and stop pressing on the eyeball.
For example, when we give our eyes a rest and close our eyes or do palming, we can imagine some pleasant moments from our life or, for example, waves, nature, or some beautiful pictures of the night city.
You need to motivate yourself to do oculomotor eye exercises, and when it becomes pleasant for you to perform these exercises and relax, then your body and your subconscious mind, on the contrary, will direct you to do these exercises.
There is a certain positive motivation if you do it with pleasure, and you need to direct your attention to improving your vision. For example, you did the exercises, relaxed, and felt that it became easy to move your eyes and look around how your vision has improved. Don't squint. Look for positive changes with a relaxed gaze.
3 tip. Focus when doing eye exercises
Mechanical senseless exercise is ineffective
When a person does oculomotor eye exercises mechanically to the right to the left, for example. And absolutely not trying to feel how the movements of the eyes go.
For example, I thought at first, then I stopped thinking, and then I'm already used to it because it has already turned into automatism and he is already thinking about something else, and he did it with his eyes and everything, it seems, he did it, nothing will work out. Because if you direct your attention to the fact that you are doing these exercises and they are pleasant, doing from this vision improves much more efficiently.
When you feel you understand why you are doing this, then the effectiveness of this exercise grows much stronger two to three times, and if your attention is distracted, you are busy with something else and do this exercise, then, on the contrary, the effectiveness of the exercise decreases 2-3 times so that you can get 5 percent efficiency, and you can get 500 percent efficiency it all depends on how much you direct your attention.
Vision improvement process
The process of improving vision, that is, you understand that your vision is improving, you are enjoying doing this exercise, and you directly feel how it improves. That is, you direct your attention, and then the effectiveness will be high.
4 tip. Oculomotor eye exercises should be performed in a relaxed state
Be sure to do relaxation before doing visual gymnastics. In a normal and good mood, do the exercise, then they will be effective. You must understand why you are doing this exercise and how it works and is not done mechanically, then, its efficiency will be high enough.
If you do this without understanding, too, the efficiency will be very low. These are the simple rules for eye training.
5 Development of visual trajectories with eye exercises to see better
You learn how to do all the exercises correctly, accurately, and slowly, and a little by little, 1 – 3 exercises per workout. Maximum 1-3 reps. In the first and second years of training. It is necessary to remove the spasm from the oculomotor muscles. The eyes will get used to the new relaxed state. It is necessary not to overload your eyes with either exercise or the phone. The most important thing is to relax and attentively listen to your eyes so that there is no stress and fatigue. Ideally, do so that the eyes do not get tired of the exercise.
Circle eye exercise
Clockwise and counterclockwise.
Moreover, I will tell you a little secret when you look along the contour of a simple circle, in some places, you have some overshoots.
You skip a piece of a circle which means there is muscle tightness. And you just carefully, without jumps, pass this section exactly without a slip, repeatedly removing these clamps and adding functionality to your oculomotor muscles.
Oculomotor eye exercise tips. Summary
Today I explained to you the Top 5 necessary tips for doing eye exercises 1. Do not make eye muscles tired, 2. Enjoy the process, 3 Mechanical senseless exercise is ineffective, 4 Exercises should be performed in a relaxed state, 5. Development of visual trajectories. I hope it will help you.
Subscribe to my channel. Hit the like button so more people can see better. If you have any questions, then ask them in the comments.